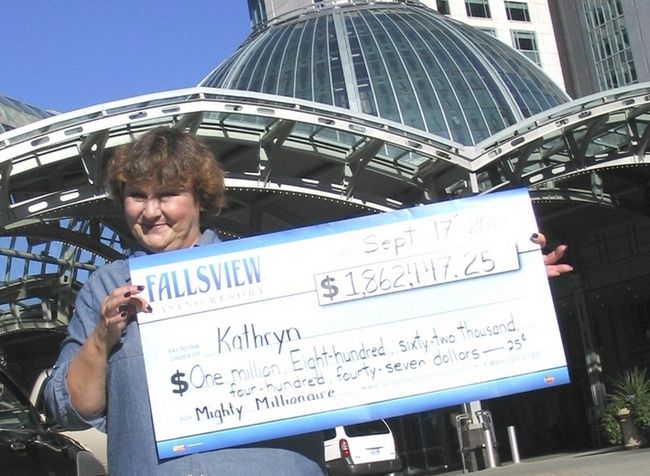 The Fallsview Casino in Niagara Falls can proudly boast about its latest slot machine millioinaire; Kathryn Stokes. Tuesday, September 17, 2013, the Caledon woman won $1.8 million at a Michael Jackson themed slot machine.
Stokes is a huge Michael Jackson fan. When she saw the Michael Jackson King of Pop slot machine, she was drawn in to play. Stokes loves Jackson's music and felt lucky to have won before on the same Jackson-themed machines. It was only her second visit to the casino. At her last visit to the casino, she won $100 playing the Jackson slots. She sat down at the machine and fed it approximately $60. An hour later, she was a millionaire. She won $1,862,447.25 to be exact.
The 55-year-old works with the Peel Regional Police in Brampton, which is a suburb of Toronto. A legion from Woodbridge and a close friend of Stokes made the trip to the casino, which prompted Stokes to tag along. Kathryn Stokes has only visited the casino twice, and doesn't consider herself much of a gambler.
When asked what she planned on doing with the money, she was unsure. She said she's looking at a new car but other than that, she's still trying to mentally process the unbelievable win.
The Fallsview Casino has over 200,000 square feet of gaming space with over 3000 slot machines in the complex. The King of Pop machines are part of the Mighty Millionaire progressive slot machines. The machines are a five-reel, 25 line video slot. They feature interactive bonuses and surprise appearances of Michael Jackson along with his songs.
Along with photos of Michael Jackson, the slots feature bonus games, free games and platinum record bonus spins. The touch screen allows players to spin the record to increase rewards and game bonuses. Michael will moonwalk across the screen during Moonwalk Wilds.
The progressive award is won during a max bet when five scattered jackpot symbols are awarded in the base game, which is how Stokes won her huge jackpot.
Stokes doesn't hold the record for the largest win at the Niagara Casinos. That honor went to Doris Wendt, a native of North Tonawanda, who won 5.6 million dollars at the casino on February 14, 2002.
Read more about this story here.